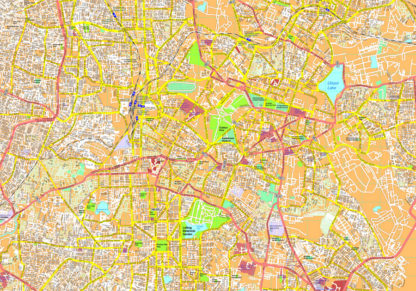 Bangalore eps map vector
495.00 €
The Bangalore eps map vector available on epsmaps.com is a high-quality map of the city of Bangalore, India. It is created using Adobe Illustrator and is available in both vector and eps formats. This map is perfect for businesses and professionals who need a detailed and accurate map of Bangalore for their work.
The map shows the entire city of Bangalore, including its major streets, landmarks, and neighborhoods. It is designed to be easy to read and navigate, with clear labels and symbols for important locations. The vector format allows users to zoom in and out without losing quality, making it ideal for use in presentations, reports, and other professional documents.
Bangalore is located in the southern part of India, in the state of Karnataka. It is known as the "Silicon Valley of India" due to its thriving IT industry. Some of the major streets in Bangalore include MG Road, Brigade Road, and Hosur Road. The city is also home to many important landmarks, such as the Bangalore Palace, Lalbagh Botanical Garden, and the Vidhana Soudha government building.
Overall, the Bangalore eps map vector is an essential tool for anyone doing business or working in Bangalore. Its high-quality design and detailed information make it a valuable resource for professionals in a variety of industries.