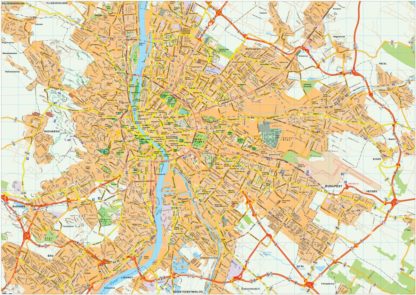 Budapest eps map vector
200.00 €
The Budapest eps map vector available on epsmaps.com is a high-quality map designed for professional use. It is created using Adobe Illustrator, making it a vector format that can be scaled to any size without losing resolution. The map is also available in eps format, which is a standard file format for vector graphics.
Budapest is the capital city of Hungary, located in the central part of the country. The city is divided into two parts by the Danube River, with Buda on the west bank and Pest on the east bank. The Budapest eps map vector shows the entire city, including all major streets, landmarks, and points of interest.
Some of the main streets in Budapest include Andrássy Avenue, which is a UNESCO World Heritage Site and home to many historic buildings and museums. Other important streets include Váci Street, which is a popular shopping destination, and Rákóczi Avenue, which runs through the heart of the city.
Overall, the Budapest eps map vector is an essential tool for businesses and professionals who need accurate and detailed maps of the city. It is easy to use and can be customized to meet the specific needs of each user.
Description
Budapest map vector