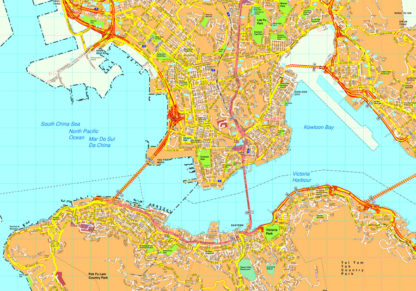 Hong Kong eps map vector
395.00 €
The Hong Kong eps map vector available on epsmaps.com is a high-quality map designed using Adobe Illustrator. It is a vector format, which means that it can be scaled to any size without losing its resolution. This map is commonly purchased by businesses and professionals who require accurate and detailed maps of Hong Kong.
Hong Kong is located in southeastern China and is a Special Administrative Region of the People's Republic of China. The city is known for its impressive skyline, bustling streets, and vibrant culture. The Hong Kong eps map vector shows the city's major streets, landmarks, and neighborhoods.
Some of the main streets in Hong Kong include Nathan Road, Hennessy Road, and Queen's Road. These streets are lined with shops, restaurants, and other attractions. The map also highlights popular tourist destinations such as Victoria Peak, the Hong Kong Museum of History, and the Avenue of Stars.
Overall, the Hong Kong eps map vector is an essential tool for anyone doing business or traveling in this dynamic city. Its accuracy and detail make it a valuable resource for professionals in a variety of industries.