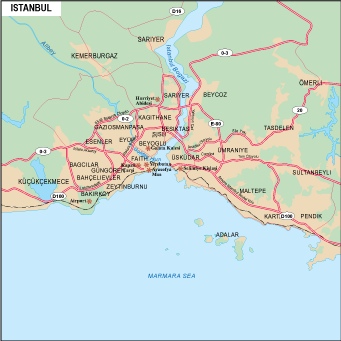 Istanbul city eps map vector
65.00 €
The Istanbul city eps map vector is a high-quality map of the city of Istanbul, Turkey. It is available for purchase on epsmaps.com and is designed for use by businesses and professionals.
The map is created in Adobe Illustrator and is available in both vector and eps formats. This means that it can be easily scaled up or down without losing any quality, making it ideal for use in a variety of applications.
The Istanbul city eps map vector shows the entire city of Istanbul, including its many neighborhoods and districts. It also includes the city's major streets and highways, as well as its landmarks and points of interest.
Some of the main streets shown on the map include Istiklal Avenue, which is one of the city's busiest shopping and entertainment districts, and the Bosphorus Bridge, which connects the European and Asian sides of the city.
Overall, the Istanbul city eps map vector is an essential tool for anyone doing business in or traveling to Istanbul. Its high-quality design and detailed information make it a valuable resource for navigating the city and finding your way around.