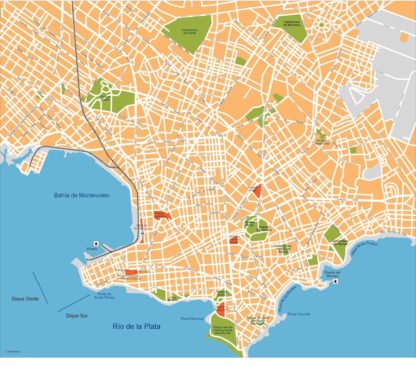 Montevideo eps illustrator vector map
140.00 €
The Montevideo eps illustrator vector map available on epsmaps.com is a high-quality map that is purchased by businesses and professionals. Montevideo is the capital city of Uruguay, located in the southern part of the country. The map is available in both eps and illustrator vector formats, making it easy to use and customize.
The map shows the main streets and landmarks of Montevideo, including the Rambla, which is a scenic coastal road that runs along the Rio de la Plata. Other notable streets include 18 de Julio Avenue, which is the main commercial street in the city, and Bulevar Artigas, which is a major thoroughfare that runs through several neighborhoods.
In addition to streets, the map also shows parks, museums, and other points of interest in Montevideo. Some of the most notable landmarks include the Palacio Legislativo, which is the seat of the Uruguayan government, and the Teatro Solis, which is a historic theater that hosts concerts and performances.
Overall, the Montevideo eps illustrator vector map is an essential tool for businesses and professionals who need to navigate the city and plan their activities. Its high-quality design and detailed information make it a valuable resource for anyone who needs to work or travel in Montevideo.