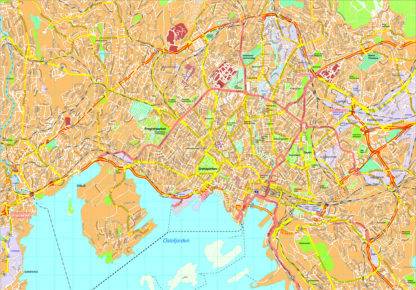 Oslo eps map vector
495.00 €
The Oslo eps map vector available on epsmaps.com is a high-quality map designed for professional use. It is created using Adobe Illustrator, making it a vector file that can be scaled to any size without losing its resolution. The map is also available in eps format, which is a standard file format for vector graphics.
Oslo is the capital city of Norway, located in the southern part of the country. The city is situated at the head of the Oslofjord, surrounded by hills and forests. The Oslo eps map vector shows the city's main streets and landmarks, including the Royal Palace, the Oslo Opera House, and the Akershus Fortress.
Some of the main streets in Oslo that are highlighted on the map include Karl Johans gate, which is the main shopping street in the city, and Grensen, which is known for its high-end fashion boutiques. Other notable streets include Storgata, which is home to many restaurants and cafes, and Akersgata, which is where many of the government buildings are located.
Overall, the Oslo eps map vector is a valuable tool for businesses and professionals who need an accurate and detailed map of the city. Its high-quality design and vector format make it easy to use and customize for a variety of purposes.