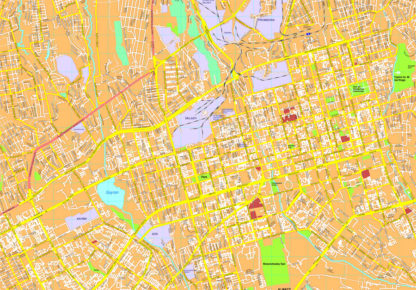 Almaty eps map vector
495.00 €
The Almaty eps map vector is a high-quality map of the city of Almaty, Kazakhstan. It is available for purchase on epsmaps.com and is designed for use by businesses and professionals.
The map is created in Adobe Illustrator and is available in both vector and eps formats. This means that it can be easily scaled up or down without losing any quality, making it ideal for use in a variety of applications.
Almaty is located in the southeastern part of Kazakhstan, near the border with Kyrgyzstan. It is the largest city in Kazakhstan and is known for its beautiful mountain scenery and vibrant cultural scene.
The Almaty eps map vector includes all of the city's major streets and landmarks, including the Central State Museum, the Almaty Tower, and the Kok-Tobe cable car. It also includes detailed information about the city's public transportation system, including bus and tram routes.
Overall, the Almaty eps map vector is an essential tool for anyone doing business in or traveling to Almaty. Its high-quality design and detailed information make it a valuable resource for professionals in a variety of industries.
Description
Almaty. Almaty vector map – Illustrator eps file