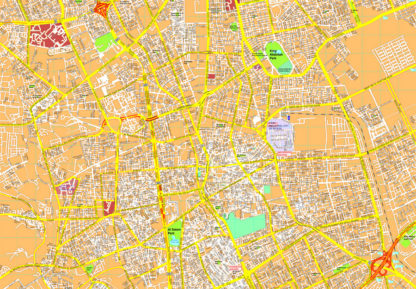 Riyadh eps map vector
495.00 €
The Riyadh eps map vector available on epsmaps.com is a high-quality map of the city of Riyadh, Saudi Arabia. The map is created using Adobe Illustrator and is available in both vector and eps formats, making it easy to use for a variety of purposes.
Riyadh is the capital city of Saudi Arabia and is located in the central region of the country. The city is known for its modern architecture, bustling business district, and rich cultural heritage. The Riyadh eps map vector shows the city's major streets and landmarks, including King Fahd Road, Olaya Street, and the iconic Kingdom Centre.
The map is designed to be easy to read and navigate, with clear labels and symbols for important locations such as hospitals, schools, and government buildings. It is an ideal resource for businesses and professionals who need to navigate the city for work or travel purposes.
Overall, the Riyadh eps map vector is a valuable tool for anyone who needs to navigate the city of Riyadh. Its high-quality design and detailed information make it an essential resource for businesses, travelers, and residents alike.
Description
Riyadh map. Riyadh vector map. Saudi Arabia