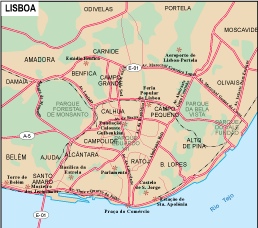 Lisboa city eps map vector
65.00 €
The Lisbon city eps map vector from epsmaps.com is a high-quality map designed for professional use. It is available in both Illustrator vector and eps formats, making it easy to use in a variety of applications.
Located in Portugal, Lisbon is a beautiful city with a rich history and culture. The Lisbon city eps map vector shows the city's main streets and landmarks, including the famous Belem Tower, the Jeronimos Monastery, and the Lisbon Cathedral.
The map is highly detailed, with clear labels and symbols for important locations such as museums, parks, and transportation hubs. It also includes information on the city's public transportation system, making it a valuable resource for visitors and locals alike.
Overall, the Lisbon city eps map vector is an excellent tool for businesses and professionals who need accurate and up-to-date information on the city's layout and attractions. Its high-quality design and easy-to-use format make it a must-have for anyone working in or traveling to Lisbon.